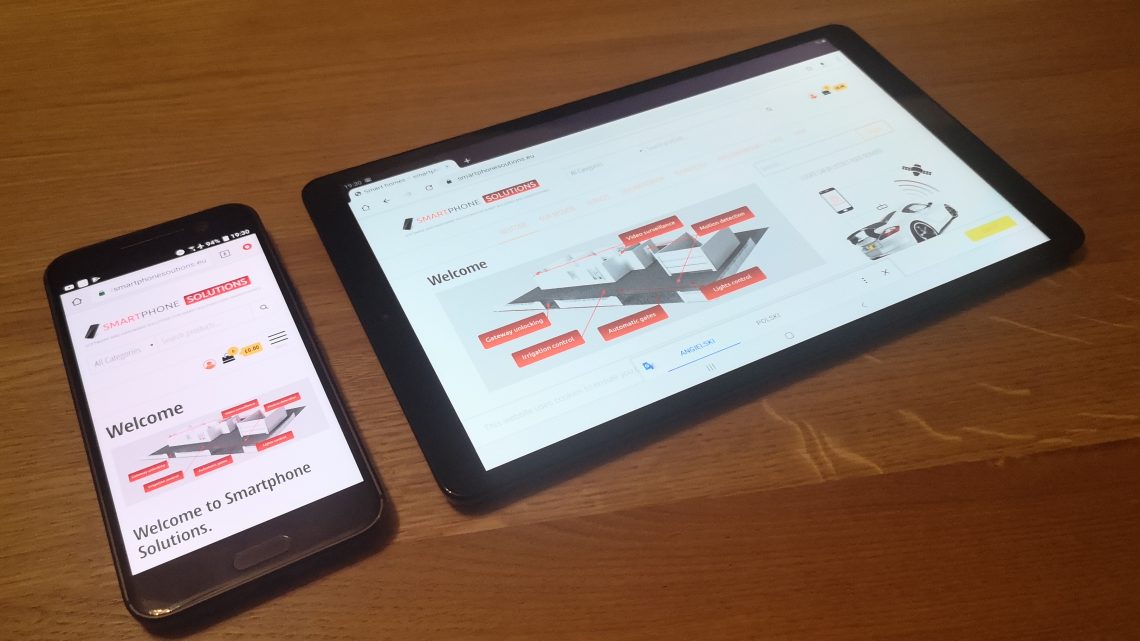 Tablet or smartphone – what should I choose?
April 8, 2020
If you are wondering what will be better choice for remote control device to your home – please read our expert article at this matter.
Tablets versus smartphones
Tablet and smartphone are devices that allow access to the Internet, games and applications. These two the devices are very similar but there are a few things that make the two devices different. In this article will try to show you the pros and cons of the tablet and phone so that you can decide which one better to buy – especially if you want to use it as remote controller to your smart home network
Operating system in tablets and smartphones
We have various systems in phones and tablets, for example IOS, Android, Windows Mobile or Windows. It's easier to connect a phone or tablet with Android or Windows mobile to a computer with Windows and a phone or tablet with IOS to a computer with macOS. There are more applications on Android and less on iOS.
In turn, Android may have manufacturer overlays that slow down the device because it is not designed for the equipment of one manufacturer.
In IOS, the system is made for a given device, so it is faster. Android was created in 2008 and is used by many manufacturers and IOS is used only by Apple.
Work in the office on mobile devices
We have a free office suite installed on new tablets or Android phones which is limited in time without logging in.
When you log in, you can use it longer. In Windows or Windows Mobile you already need to buy this package then we can use it forever.
You can also log in on an Android phone or tablet to have unlimited access to the office suite, i.e. Excel, Word, One Drive, One Note, Skype for Business, Power Point, Outlook, Access, Publisher.
Office can also be installed on iOS.
A tablet is more suitable for work in the office because it has a larger screen, you can also use it with the stylus. In Microsoft devices, the stylus is added to the device and in Apple you have to buy it.
Entertainment – what's better tablet or smartphone
Playing games on the tablet is much better because the tablet provides a larger area to play. Games look better on the big screen and in most tablets have better components. The control is more convenient on the tablet and causes trouble on the phone because everything is smaller.
E-book reading on tablet vs smartphone?
n this case, the tablet wins again, as the size of its screen often resembles the size of the book. It is more convenient to use, and individual pages of documents do not need to be constantly moved and enlarged to read the whole. For people who like to read a minimum of 10 inches tablet will be best.
Tablet for photography?
Top equipment manufacturers have accustomed us to the fact that very high quality digital cameras are installed in the folded smartphone models, which successfully compete with digital SLRs.
This is why it is better to take pictures with the phone because it is smaller, handier and usually has a better camera. The tablets are not quite made to take pictures. Manufacturers do not install good matrices and optics in them. Tablets are rather intended for playing games, reading articles and watching movies.
If someone wants to take pictures with a phone or tablet, let them choose the phone and not regret it.
Advantages and disadvantages of tablets
BENEFITS
larger screen sizes
more convenient to browse the Internet and watch movies
easier operation thanks to larger screens
Due to the large screen, it is better suited for watching movies or operating graphics programs, Excel, Word, etc.
DISADVANTAGES
it's harder to take photos with it
inconvenient to make phone calls
To use the Internet, it is necessary to choose a model with 4G module, buy an external modem or rely only on Wi-Fi access
due to its larger size, it cannot be put in your pocket.
The smartphone is not very suitable for watching movies or playing TV, because its small screen quickly strains your eyesight
Cheap low-end smartphones are not suitable for modern games
Advantages and disadvantages of smartphones
BENEFITS
has a compact size, so it fits into your pocket and can be operated with one hand (most often)
has a better camera and is more convenient to take pictures
you can easily use the internet
allows easy conversations
DISADVANTAGES
A small screen that makes it uncomfortable to surf the web or read ebooks
Recommended models of smartphones and tablets – samples
Samsung Galaxy Tab A 10.1 (2019)
This tablet is the best in its price category. It allows great possibilities without having to spend a large amount of money on equipment. Galaxy Tab a is equipped with a 10.1 inch display with a resolution of 1920×1200.
Huawei P40 PRO / 256 GB
Huawei P40 PRO / 256 GB has a screen size of 6.4 "inches
Resolution: 2,310 x 1,080 px. A very good smartphone for people who like taking pictures and have a big budget for a phone call. I highly recommend it.
Samsung Galaxy Tab S5e
This tablet is slightly faster than Tab A but costs 2 times more. I think it's better to buy Tab A and buy a Samsung or Xiaomi smartphone for the money saved.
Summary
The tablet and smartphone have a similar structure but the tablet is bigger and the phone smaller. They differ in price, appearance and size, and many other parameters.
But which one is better?
You have to look at yourself and choose the equipment that will best suit your lifestyle. For example, businessmen will choose a large, comfortable tablet with a stylus to work on a desk.
Workers at the construction site will choose a small, handy one that they can put in their pocket a smartphone.
The technology is moving forward because folded smartphones are created which are larger when unfolded. This allows you to put it in your pocket without worrying about it being too big and falling out.
The price depends on what we want to have and on our budget. Tab A costs about 200 GBP and is slightly slower than tab s5e which costs twice as much.
You can buy a smartphone for the money saved, and we will have two devices for the price of one.
I recently wanted to buy a tablet and was thinking about S5e and Tab A. Ultimately, I bought a tab A because I didn't need more powerful equipment that cost twice as much equipment.
For a child, a tablet is better because the screen is larger, which reduces eye deterioration, unlike smartphones. At school, at the bus stop, we see people with smartphones, not tablets.
It's rare to see a person with a tablet. But on the plane or on the bus, most people have a more comfortable tablet on which they watch a movie or play game quality.
This is because the smartphone is easier to wear than a tablet and you can quickly check the time or message than pulling out a large, bulky tablet.
When buying a used tablet, you should pay attention whether it is not damaged and whether it is not a fake after times on news portals, scammers give inflated prices, and the equipment is worth much less.
Nobody wins this duel because what equipment we choose depends only on us.